Today I'm delighted to introduce y'all to my friend and creator of Novel PASTimes.
Cindy Thomson's
latest historical novel releases this month.
Annie's Stories
is a fun book filled with references to a much loved book,
The Wizard of Oz
.
Cindy, thanks for strolling over to share a bit about your writing world. Tell us about your latest book.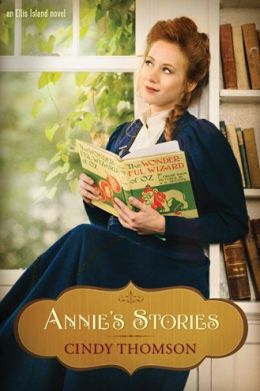 Annie's Stories
is the second book in the Ellis Island series. It follows Grace's Pictures, but it can be read independently. Annie is the housekeeper at Hawkins House that readers met in book one.
The year is 1901, the literary sensation The Wonderful Wizard of Oz is taking New York City by storm, and everyone wonders where the next great book will come from. But to Annie Gallagher, stories are more than entertainment—they're a sweet reminder of her storyteller father. After his death, Annie fled Ireland for the land of dreams, finding work at Hawkins House.

But when a fellow boarder with something to hide is accused of misconduct and authorities threaten to shut down the boardinghouse, Annie fears she may lose her new friends, her housekeeping job . . . and her means of funding her dream: a memorial library to honor her father. Furthermore, the friendly postman shows a little too much interest in Annie—and in her father's unpublished stories. In fact, he suspects these tales may hold a grand secret.

Though the postman's intentions seem pure, Annie wants to share her father's stories on her own terms. Determined to prove herself, Annie must forge her own path to aid her friend and create the future she's always envisioned . . . where dreams really do come true.
Annie's Stories
has a gorgeous cover! I want to sit down at that window and curl up with a good book. Your story intersects with the book
The Wonderful Wizard of Oz
. What about that book drew you to include it in the story?
I began researching for this series by looking to see what was introduced at the turn of the century that impacted society enough that people would recognize it today. For Grace's Pictures it was the Brownie camera. But being a book lover I had to see what new books were published. Certainly we all know the story. I had never read the book before so I read it along with my character Annie. It's a timeless tale about searching for home that I imagine resonated with many immigrants.
Annie's Stories
is a book you labored over. What was the greatest challenge in writing this book?
Yes, you know that because you helped brainstorm!

J

Even though I knew it would have a bookish theme, I knew Annie would be mourning her father and have to escape mistreatment in Ireland, and even though I loved the story idea from the start, I struggled with what would connect her father's storytelling with Annie's present situation in America. Making those stories he wrote for her valuable to others for reasons she could not at first understand helped solidify the story for me…finally! I highly recommend brainstorming with other authors!
Cindy is giving away a copy of her new book. All you have to do is answer this question:
If you grew up with the Wizard of Oz (book and/or movie) what impacted you most about that story?