Today we're delighted to welcome Tamera Lynn Kraft to Novel PASTimes.
Tamera has always loved adventures and writes Christian historical fiction set in America because there are so many adventures in American history. She is married to the love of her life, has two grown children, and lives in Akron, Ohio.
Tamera is the leader of a ministry called Revival Fire For Kids where she mentors other children's leaders, teaches workshops, and is a children's ministry consultant and children's evangelist. She has curriculum published and is a recipient of the 2007 National Children's Leaders Association Shepherd's Cup for lifetime achievement in children's ministry.
Welcome to PASTimes! Thanks for joining us and sharing a bit about your writing world. Tell us about your latest book.
A Christmas Promise
is a Moravian Christmas story set in the wilderness of Ohio. In 1773, t
here were a band of missionaries and Lenape Indians celebrating Christmas at Schoenbrunn Village, the first settlement in Ohio. They'd come to this wilderness and started the village a year earlier to preach the Gospel to the Lenape, also known as the Deleware.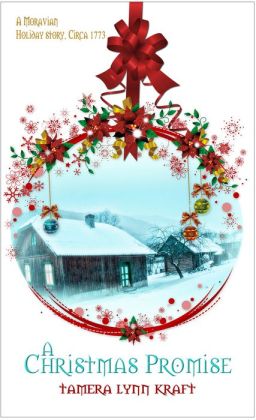 This is the setting for A Christmas Promise.
John and Anna settle in this Ohio village to become Moravian missionaries to the Lenape. When John is called away to help at another settlement two days before Christmas, he promises he'll be back by Christmas Day.
When he doesn't show up, Anna works hard to not fear the worst while she provides her children with a traditional Moravian Christmas.
Through it all, she discovers a Christmas promise that will give her the peace she craves.
Tell us about your books. What drew you to write them?
My stories always come from interesting things I learn about history, usually American history. For instance, when I visited Schoenbrunn Village and found out about the missionaries that lived there, I wondered what their lives would be like. Did they ever worry about the dangers of raising their families in the wilderness among hostile tribes? That's how
A Christmas
Promise
started.
Another novella that was published,
Soldier's Heart
, came about when I read about the heroic Ohio Seventh regiment that lost most of their men in their last battle. I wondered what it would be like for a soldier returning home from the Civil War with PTSD after losing his men in a time where there were no treatments for it.
Another one of my stories that hasn't been published yet is about a woman abolitionist who attends Oberlin College, the only college before the Civil War that allowed blacks and women. She returns home during break to confront her father who is a slave owner. I wrote that story after reading about the women who graduated from Oberlin and how they were involved in every social cause in the late 1800s including abolition. I started wondering what it would be like for an abolitionist to stand up to her family. It's called Red Sky over America.
As long as there are interesting facts to read about in American history, I'll never run out of story ideas.
Tamera will be back tomorrow to tell us more about her writing. She's also giving away a copy of one of her books. To enter, please answer the following question in a comment:
What favorite Christmas traditions do you use to celebrate every year?
And be sure to come back tomorrow for the rest of this interview.