Today we're delighted to welcome Tamera Lynn Kraft back to Novel PASTimes for the second part of her interview.
Tamera has always loved adventures and writes Christian historical fiction set in America because there are so many adventures in American history. She is married to the love of her life, has two grown children, and lives in Akron, Ohio.
Tamera is the leader of a ministry called Revival Fire For Kids where she mentors other children's leaders, teaches workshops, and is a children's ministry consultant and children's evangelist. She has curriculum published and is a recipient of the 2007 National Children's Leaders Association Shepherd.
Welcome back, Tamera.

What was the greatest challenge in writing your books?
I suppose my greatest challenge is being accurate with historical detail. I am a stickler for researching my stories, but it seems no matter how much I research, there's probably something that I'll miss. I try to be okay with that, but I'm not.
What do you hope readers remember after your stories ends?
Even though my stories are historical, the emotions and turmoil the characters go through are every bit what we go through today. I hope that my readers see themselves through my characters and take away something that helps them in their everyday life.
Also my stories tend to be heart wrenching. I want my stories to grab hold of my readers, entice them into my story world, and not let them go until the last page. If I've done a good job, the story will stay with them long after that.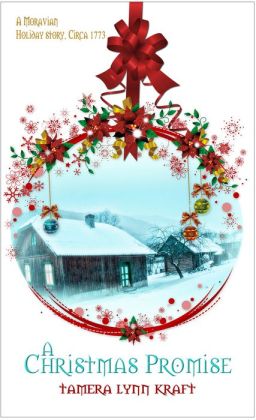 What surprised you most as you wrote your books?
I always find surprises when I'm researching my books. For instance, in
A Christmas Promise
, I was surprised to find out that the Moravians started many of our Christmas traditions back in the 1700s.
When I wrote Soldier's Heart, I researched my hometown, a small town in Northeast Ohio, and was surprised to find out that Ravenna was once known for top of the line carriages and hearses and that Abraham Lincoln once stopped there to make a speech. I had grown up in Ravenna, and I didn't know about either of these facts.
I never know what interest fact my research will turn up.
What's next for you?
I keep writing and turning stories into my agent, Linda Glaz from Hartline. She is currently working to find a place for three of my stories. She's as tenacious as I am when it comes to never giving up.
Do you participate in author book signings or events? Where can readers find you?
I do participate in book signings on occasion, usually near where I live in Akron, Ohio. My readers can also find me at these online sites.
What are you currently reading?
At the moment, I'm working to finish editing my newest novel. But I did recently finish reading Mary Ellis' new Civil War novel called
The Lady and the Officer
. It was a great read. I also recently read a WW2 spy novel called
With Music in their Hearts
by Carole Brown. It will be out in November.
Which of your books would you love to see turned into a movie?
All of them. I can picture each one of them as a movie when I'm writing them. I even have the actors picked out to play the different characters. If a movie was made of one of my novels, it would be difficult to use my choices though. I love classic movies, so most of the actors I would choose are either too old or dead. For instance,
A Christmas Promise
would star Gregory Peck and Ingrid Bergman. A novel I recently wrote would star Humphrey Bogart and Audrey Hepburn. So if I ever do have one of my books made into a movie, I'll have to leave the casting to someone else.
Thanks for interviewing me. I enjoyed it.
Thanks for being here!
Tamera is also giving away a copy of one of her books. To enter, please answer the following question in a comment:
What favorite Christmas traditions do you use to celebrate every year?