Welcome back to the second part of an interview with my friend and debut author Kristy Cambron. Her debut novel The Butterfly and the Violin is connecting with readers everywhere. It is a beautiful story. Don't forget to read to the end to participate in the giveaway of her book.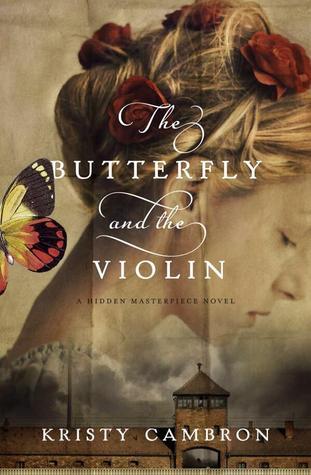 What surprised you most as you researched and wrote this book?
That the art even existed! I learned about the art of Auschwitz more than a decade ago, when completing my undergraduate work in art history. One of my professors began showing slides of watercolors, sketch drawings, even paintings found hidden on the walls inside the camp – and I think every student in that room was shocked to silence. None of us had ever heard of it before.

The heroine had to learn how to love God regardless of what happened to her. Have you walked this same journey?
I'm open about my family's journey in 2013. It was a year of totally new things – a leukemia diagnosis for my Dad, a first publishing contract, visiting a chemo center for the first time, first book signings and my dream of becoming an author, losing my Dad to cancer… The ups and downs of this life, whatever they are to each of us, they don't stop when you become a Christian. I think that was a tough thing I had to realize. Being a Christian is not about perfection. It's messy sometimes. We have hope in Christ, but our faith can be sorely tested when the big storms come. I had to really dig deep this year, and cling to Christ like I never have before. Through the pain of loss, challenges, and the uncertainty that can come in life – they've been difficult, but He has made me stronger through them.

What do you hope stays with readers after they close the cover on this novel?
That we're all in our own journeys through this life. We all have different challenges, struggles, defining moments… I'd love all of us to have God-given strength that is very real in our lives, especially at our weakest moments. I hope readers can see some of themselves in Adele– just like I did in writing her– and know that they can rely on Christ for every one of the barriers that arise in our lives, no matter how large or small. He is a very real, very loving God who has infinite care for the challenges we face.

Can you give us a sneak peek at what's next for you?
Absolutely! My next book is A SPARROW IN TEREZIN, Book #2 in the Hidden Masterpiece series. The story centers around the children's art of the Theresienstadt transport camp (also known as Terezín), the Nazis' propaganda camp north of Prague. It follows a key character from the historical storyline in THE BUTTERFLY AND THE VIOLIN (which I can't share because it would be a major Spoiler). It also introduces Kája Makovský, a Czech-born journalist who survives the worst of The London Blitz in 1940, only to be later transported to Terezín when trying to help her family flee Nazi-occupied Prague at the height of the war. Here in the camp, Kája uses her love of art and of storytelling to help the children – all under the age of fifteen – cope through the horrific experiences of the Holocaust. A SPARROW IN TEREZIN will release from Thomas Nelson (Harper Collins Christian Publishing) in April, 2015.

This is another GREAT cover, Kristy! Where can people connect with you?
a Rafflecopter giveaway