Today I'm delighted to welcome back my friend
Tamera Alexander
and her wonderful novel
To Win Her Favor
. Tamera is a USA Today bestselling novelist whose works have been awarded and nominated for numerous industry-leading honors, including the Christy Award, the RITA Award, the Carol Award, and Library Journal's top distinction among others. After seventeen years in Colorado, Tamera and her husband have returned to their native South and live in Nashville, where they enjoy spending time with their two grown children, and a twelve pound Silky Terrier named Jack.
Read to the end to enter the giveaway. But first here's the second part of the interview with Tamera.
What was the greatest challenge in writing
ToWin Her Favor
?
Reaching the right balance of realism in reference to the true history of the American South and in regard to showing the authentic and passionate side of a marriage of convenience. It was a fine line on both, but with
much
writing and rewriting—and with the always candid perspective of my writing team—I believe we reached that balance.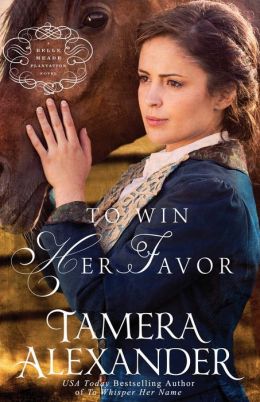 What did you learn as you wrote To Win Her Favor?
That our capacity to hurt one another, to inflict cruelty and to hate, is trumped only by our capacity to love. But the latter comes only through the transforming power of Jesus Christ.
What do you hope readers remember after your stories end?
More than anything—after being swept away to another time and place, after hopefully falling in love with the characters like I have, and indulging in the fictive dream—when that final page is turned, I hope readers will have taken a step closer to Christ in some way. That's my ultimate hope for my writing—to bring others closer to Christ.
What surprises you most as you write your books?
What's often surprising is "the lives of their own" these characters develop. I know I'm the author and that I'm supposedly "in charge." But there are times when a character simply will
not
do what I'd planned for her/him to do. More times than not, it's because their character arc has grown and they've changed. It's my job to stay true to their motivations, to who they're becoming. So when this happens, I stop and listen to them. To the story overall. Then adjust and keep moving forward.
What piece of advice do you have for readers who want to write? If you could teach them something what would it be?
Never give up. Keep writing. Keep honing your skills as a writer. And pray about your writing, give your aspirations to the Lord. Also, look for a writing critique partner, someone who can sharpen you and, in turn, someone you can help sharpen. Deborah Raney and I have been writing critique partners for over twelve years now, and it's made all the difference in my writing. And in my writing journey!
What's next for you?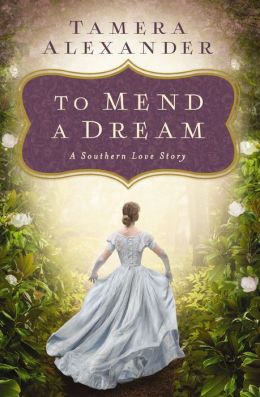 I'm currently finishing the third (and last) book in the Belmont Mansion series. Check out the
Belmont Mansion page
on my website for sneak peeks into this next novel and to see the Belmont Mansion up close and personal. I love writing these Southern Mansion novels. Coming in July is a Belle Meade Plantation novella—
To Mend a Dream
.
To Mend a Dream
continues the story of a secondary character we meet in
To Win Her Favor
, Savannah Darby. Savannah is Maggie's closest friend and while we learn about Savannah's struggles in
To Win Her Favor
, the culmination of her story is told in
To Mend a Dream,
a novella in a Southern novella collection entitled,
Among the Fair Magnolias
(written with authors Shelley Shepard Gray, Dorothy Love, and Elizabeth Musser).
I'm currently finishing the third (and last) book in the Belmont Mansion series. Check out the
I am so glad you are writing Savannah's story! I so want to know that hers ends well! What are you currently reading?
The Girlfrom the Train
by Irma Joubert (releases September 2015). In a word? Fabulous!
Oh! Adding that to my TBR list. Which of your books would you love to see turned into a movie?
Both
Rekindled
and
From a Distance
have been reviewed by producers for possible movies, which is fun to think about. But no solid plans yet. Maybe someday!
That is so exciting! Do you participate in author book signings or events? Where can readers find you?
Oh yes, especially when a new book releases. Check out my
News page
on my website to see if I'm coming to your neck of the woods. If so, I'd sure love to see you! I'm also on
Facebook
almost every day and would love to connect with you there!
Folks,
To Win Her Favor
is a wonderful book. Tamera has volunteered to giveaway a copy of this book to one of our readers. Just enter the giveaway below. And be sure to return tomorrow for the rest of the interview!
a Rafflecopter giveaway