By Michelle Ule
One summer when my children were still home we read many Newberry Award winning books.
This might be a good summer for you to do the same.
Perhaps you've been in a mood when you want to read good books but your life is crazy and you don't have the time nor energy to wend your way through a 600 page
historical novel
.
That's where I was that summer. I wanted something good to read, but I didn't want to spend three months on one book.
I also read these books so I'd know the best children's books published every year in the United States back to 1921.
I wanted to share them with my children. Not all of them are historical fiction, of course, but a lot of the older books were.
I read stories I never would have considered before.
You can read the list of all the winners
here
. The Newberry website is
here.
Some were good.
Some have not stood the test of time.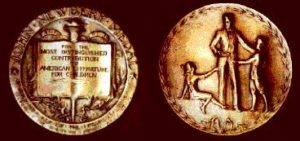 The medal shows why they're a good choice, however: that's an author sharing a book with a boy and a girl.
Just like me.
We'd read and loved some of them before, of course:
Caddie Woodlawn, The Wheel on the School, The Long Winter, The High King
(the boys' all-time favorite).
But that summer we read and enjoyed stories from the past in other lands --which is the goal of reading historical fiction.
I wanted my children to get a sense of what it was like to live in the Middle Ages with the horror of the plague surrounding young people (
The Door in the Wall
)
They loved war stories, why not read
Irene Hunt
's
Across Five Aprils,
Harold Keith
's
Rifles for Watie
, or even delve into the Revolutionary War with
Esther Forbes
'
Johnny Tremain?
Sure, I originally checked them out of the library for the children (our library had a section just for Newberry medal winners--honor books included), but I loved some of them more than they did.
I've written before about
The Witch of Blackberry Pond-
-pre-Revolution Connection not far from where we lived at one time.
Laura Ingalls Wilder
, of course, appears on the list in several places (we'd already read her books).
Stories from my childhood caught my attention in ways I more fully appreciated as an adult.
I'd never been attracted to
Eric P. Kelly
's 1929 winner
The Trumpeter of Krakow
before, but it's terrific.
Some of the books had not aged well--including the original winner,
The Story of Mankind.
Some of the more recent books felt like they were pushing an agenda and didn't enthrall me as much as the earlier ones.
I found it worked best to read the books that appealed to my interests or those of my children (they didn't bother, for example, with
Hitty: Her First Hundred Years
).
We didn't finish the entire list that summer, but we read a lot of new books to us all and loved them.
We talked about them, remembered them and when we drove across the United States the next summer (with stops in both Boston and Gettysburg), the children had a story they loved to match historical locations.
As did I!
I've not kept up reading everything on the list, though this year's winner by Kimberly Brubaker Bradley,
The War That Saved My Life,
is an excellent World War II story.
If you're looking for something new to read this summer, or want to remember historical fictions you may have loved as a child, why not take a look at the
Newberry medal
award winning titles?
Do you have a favorite Newberry medal winning book?
Tweetables
Why not read the Newberry award winners this summer?
Click to Tweet
Kids, summer reading and the Newberrys
Click to Tweet
NY Times
best selling author Michelle Ule has a new book out this summer:
The 12 Brides of Summer,
a fun collection of 12 historical fiction novellas. In addition, she's writing a biography of Mrs. Oswald Chambers which will be released in fall 2017. Learn more about her at
www.michelleule.com